IN THE MORNING
8:30am - We start out our day with the staff setting up independent activities for our clients. This could include puzzles, worksheets, matching activities and work binders.
Dropoff! Clients start to come in, and start on before mentioned activities. This could range from 1-to-1 discrete trials or natural environment activities, with more details described below.
9:15am - 10:00am - 1 to 1 discrete trials - This is where we focus on 1 to 1 interactions with our clients, usually involving activities that focus on learning a range of things such as numbers and words, learning how to appropriately get other people's attention, and identifying community helpers, locations, and objects and so on.
9:15am - 10:00am - Natural environment activities - The natural environment activities involve learning skills that will help our clients improve on things at home or in the community, such as going for walks, cleaning, playing independently and functionally, hygiene routines such as brushing their teeth, and even practicing visits to the doctor or dentist. We also focus on preparing our clients for MRI, EEG, and EKG scans as well as X Rays and blood draws, (AND even haircuts!!).
10:30 - 11:00am - Snack!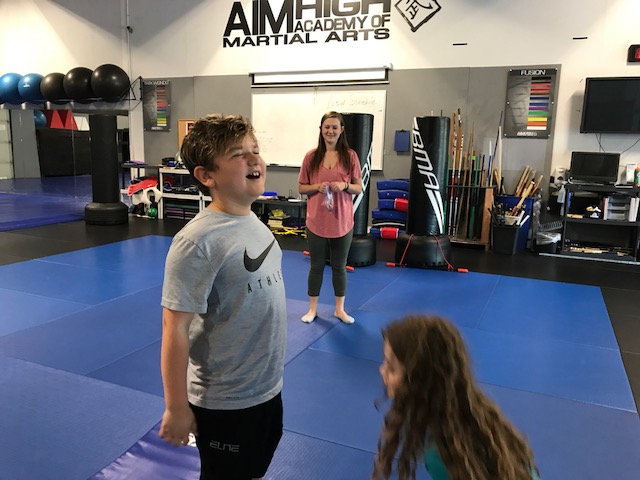 Exercise. Partnered with martial arts instructors from the Aim High Academy, we have access to exercise opportunities that isn't readily available at other clinics. We focus on a multitude of areas that could improve on strengthening muscles and increasing their endurance, all by using a series of exercises that target a range of muscle groups.
IN THE AFTERNOON
12:00pm - 1:00pm - Lunch and recess, which is broken up roughly into 30 minute increments, switching the first lunch group of clients with the remaining clients in our first recess group at the 30 minute mark.
The first group of clients that were completing 1-to-1 discrete trials will switch with the group that were working on natural environment activities, performing tasks mentioned in the morning.
This hour is split roughly into 30 minute increments and can change accordingly, where one group of clients will go exercise while the other group focuses on completing other tasks. They switch places with each other after roughly the 30 minute mark.
3:00pm - 4:00pm - The clients finish up with their appropriate tasks, whether it be 1 to 1, Natural Environment activities or worksheets, and then we help clean up our environment which includes picking up our toys, cleaning off their desks, or vacuuming up the floor, and ending it by packing their backpacks.
4:00pm - Pickup!